1. How do I make my purchase on TCO?
- For more detailed step by step on how to make your purchase, kindly refer post below:
https://www.telekung.co/pages/how-to-order

2. How do I make payment?
- You can make payment through online banking via Toyyibpay payment gateway & Stripe. Toyyibpay supports online banking (FPX) and Stripe for credit/debit card.
3. How long the shipment will take?

Short answer:

- On average, for Penisula/Semenanjung, it takes 2 to 3 working days. Sabah/Sarawak 4 to 5 working days. Other countries do expect slightly longer up to 7 working days.

Long answer:
- Once your payment is verified, we will process the item to be shipped within 48 hours. We will inform you the tracking number once the item is being shipped (via email & SMS). If the purchase is made on weekdays it will normally take 2 to 3 working days (for Peninsula/Semenanjung) or 4 to 5 working days (for Sabah/Sarawak) to receive your order.
However if you order on weekend or public holiday(s), the item will be shipped on the 1st working day afterward.
Cut-off time for the shipping arrangement is 7:00am. If you place your order after 7:00am, our team will process the shipment on the next working day.

For example, order made between 12:00am to 7:00am on Thursday will be processed & shipped on the same day (Thursday) whereas order made between 7:01am to 11:59pm will only be shipped on Friday (or if Friday is public holiday, then on the next working day).
If the order is made on Friday between 7:00am to 11:59pm, we'll only processed & ship it on the next Monday (or if Monday is public holiday, then on the next working day).
4. Design that I like is already sold out. Will you restock that design?
– Each TCO series is limited edition & sometimes it sells out quickly. There is no guarantee that every design will be restocked. Best to reach out to us to double confirm on the restock status.

You can also leave your email address on the particular telekung page, so that you will be notified once we have restock it: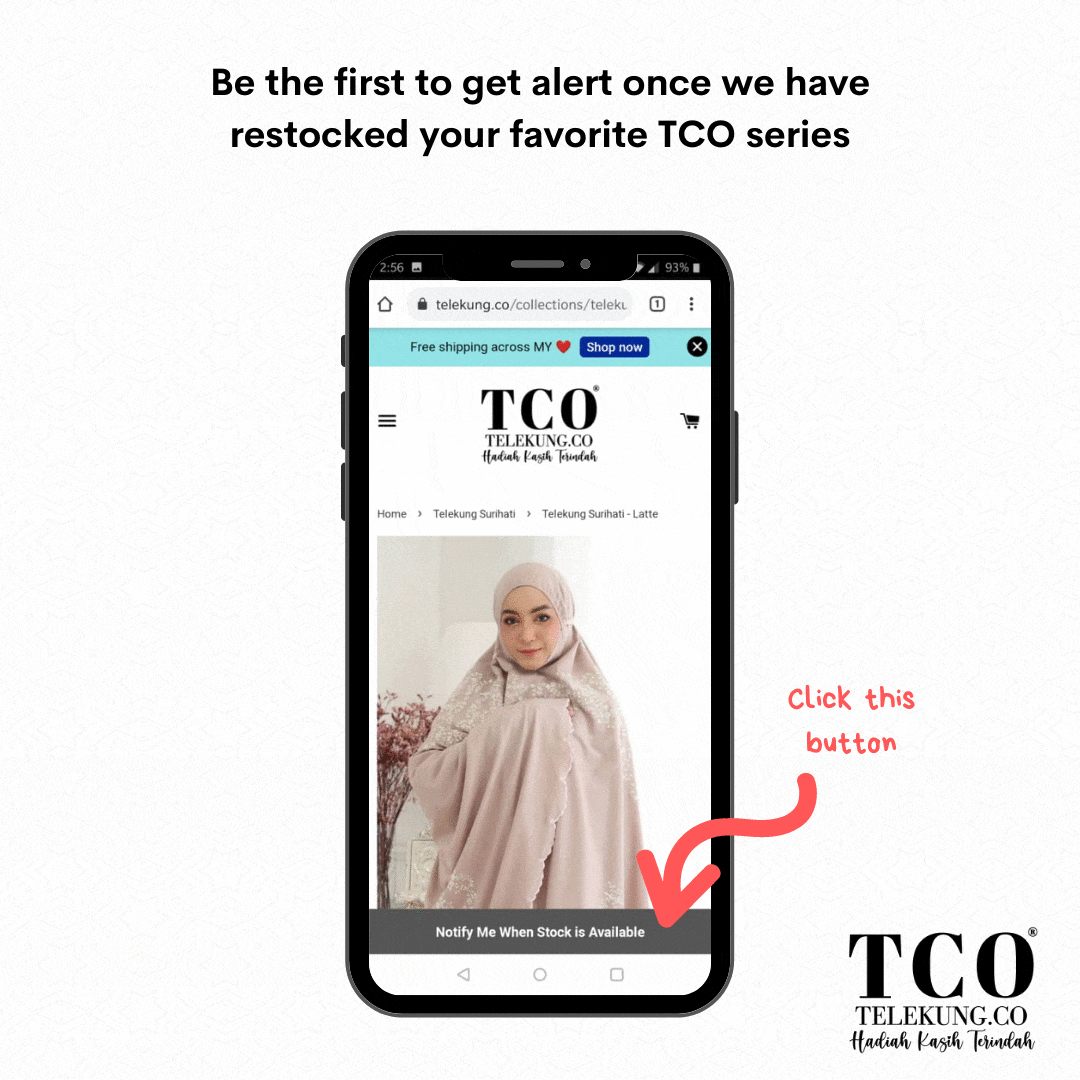 6. Do you ship to countries outside Malaysia?

- Yes, definitely. For online purchase via website, at the moment we can only process the order from Australia, Singapore & Brunei only. We are working hard to open our online purchase to other countries too, in sha Allah.

However if you are from other countries & would like to order, please contact us at via this form to arrange for the purchase.

Shipping rates change from time to time, as our delivery partners's shipping fees are dynamic, hence the fees keep changing from time to time.

7. Your international shipping fees are quite expensive, may I know why?

- The short answer is - peace of mind.

- Long answer - to ensure your item arrives safely, within the promised delivery timeline, we have decided to stick with only a few of reliable shipping partners only. Reliable here means, you will definitely receive your order, in a great shape.

- As from our previous experience, cheap means a lot of back and forth in dealing with the customer service on tracking the status, not knowing whether the item will even arrive to our oversea customers, or not. So we have decided to stop using shipping partners with 'so called' cheap shipping fees, but in the end it's adding more issues to the shipment.

- Hope you will understand our justification on this.
8. I seem can't use the coupon code, why?

- In order for the coupon code to be successfully applied on your purchase, you need to:

i. Have the coupon code, which you can get by susbsribing to our newsletter here: https://lp.telekung.co/newsletter

ii. Register an account & logged-in while making the purchase. Account registration is very simple & takes you only 2 minutes. Do it here: https://www.telekung.co/account/register
9. Will I get the box for each purchase?

- Yes, definitely. For each new telekung purchase, you will get our exclusive box for free (except for AS-IS collections, that you need to add-on for the box).

10. Do you have physical shop that I can walk-in?

- Yes we do! :) Our physical shop is at Bangi, Seksyen 9. Here are the details of our TCO Boutique Bangi:

11. I have made the payment, but the status still 'unpaid', what should I do?

- In some cases, there will be a disconnection between the payment gateway & our website once the payment is successful, causing the status is not reflecting the successful payment.

Worry not, as we will manually cross check every (working) day and manually mark your order as paid.

If you think we missed out your order, kindly reach out to us via this contact form.

12. I saw 'Toyyibpay' on my checkout page, who are they?

- Simply put, Toyyibpay is the vendor that we use to manage the payment on behalf of us.

Through Toyyibpay, you can use FPX (online banking) as payment method for your order.

Also, rest assured that they are a company that operates under the license of Bank Negara Malaysia. So we can guarantee that your details are safe.


13. I have made the payment, why the status is 'Unfulfilled'?

- Unfulfilled means that our team has yet to process your order. That could be due to your order is made during off-working hours. Once the team is back at work, your order will processed & packed accordingly, and then your order status will change to 'Fulfilled'.

- Once we fulfil your order, you will receive an email update, containing the link to the tracking update, that you can refer from time to time to get the status of your parcel delivery.

---

If you still have more questions, feel free to reach out to our customer service by submitting the form below:

https://www.telekung.co/a/contact-form