1. How do I make my purchase on TCO?
- For more detailed step by step on how to make your purchase, kindly refer post below:
https://www.telekung.co/pages/how-to-order

2. How do I make payment?
- You can make payment through online banking via SenangPay payment gateway. SenangPay supports online banking (FPX) and credit/debit card.
3. How long the shipment will take?
– Once your payment is verified, we will process the item to be shipped within 48 hours. We will inform you the tracking number once the item is being shipped (via email). If the purchase is made on weekdays it will normally take 2 to 3 working days (for Peninsula/Semenanjung) or 4 to 5 working days (for Sabah/Sarawak) to receive your order.
However if you order on weekend or public holiday(s), the item will be shipped on the 1st working day afterward.
Cut-off time for the shipping arrangement is 7:00am. If your order arrives after 7:00am, then our team will process the shipping on the next working day.

For example, order made between 12:00am to 7:00am on Thursday will be processed & shipped on the same day (Thursday) whereas order made between 7:01am to 11:59pm will only be shipped on Friday (or if Friday is public holiday, then on the next working day).
If the order is made on Friday between 7:00am to 11:59pm, we'll only processed & ship it on the next Monday (or if Monday is public holiday, then on the next working day).
4. Design that I like is already sold out. Will you restock that design?
– Each TCO series is limited edition & sometimes it sells out quickly. There is no guarantee that every design will be restocked. Best to reach out to us to double confirm on the restock status.

You can also leave your email address on the particular telekung page, so that you will be notified once we have restock it: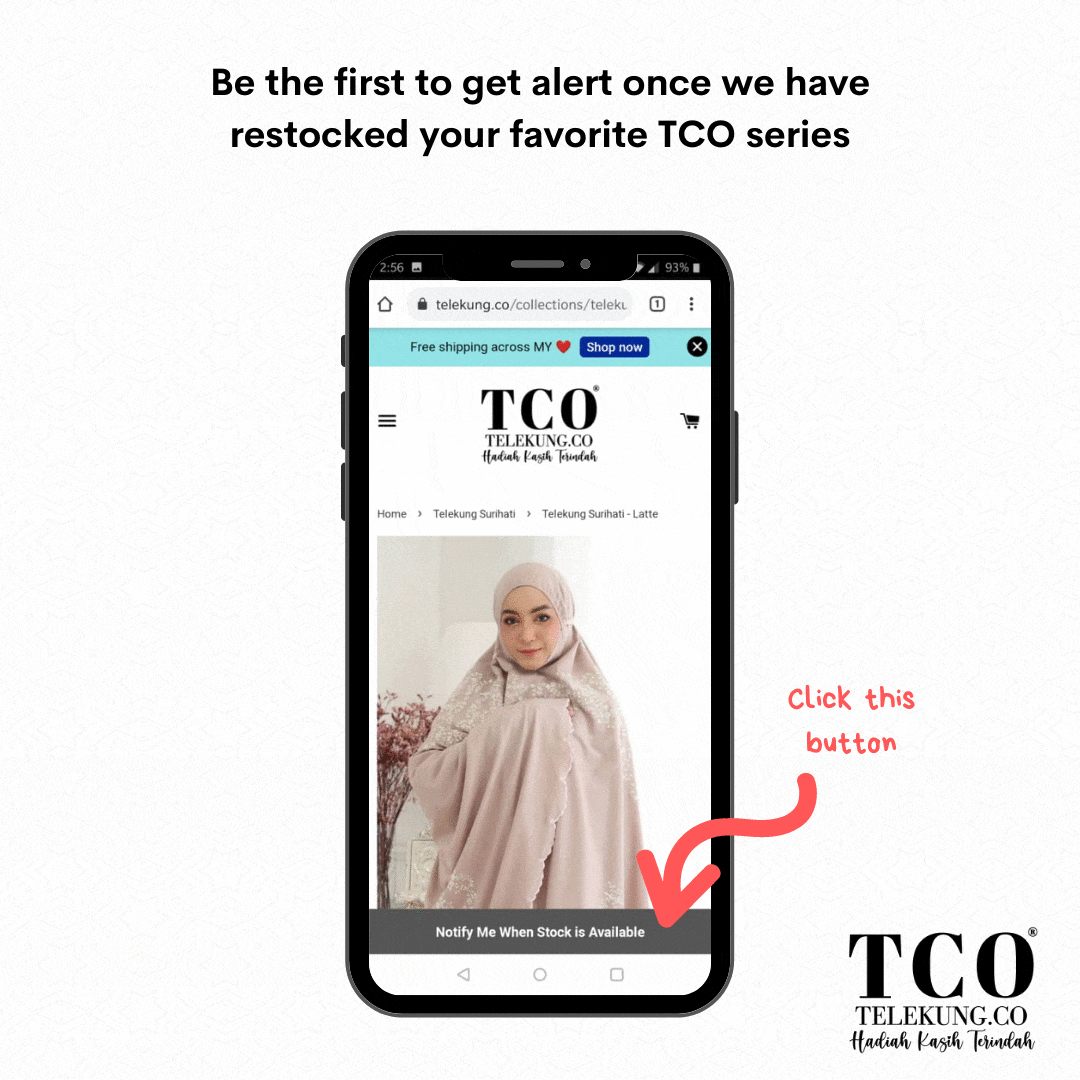 6. Do you ship to countries outside Malaysia?

- Yes, definitely. For online purchase via website, at the moment we can only process the order from Australia, Singapore & Brunei only. We are working hard to open our online purchase to other countries too, in sha Allah.

However if you are from other countries & would like to order, please contact us at [email protected] to arrange for the purchase.
7. I seem can't use the coupon code, why?

- In order for the coupon code to be successfully applied on your purchase, you need to register an account & logged-in while making the purchase. Account registration is very simple & takes you only 2 minutes. Do it here: https://www.telekung.co/account/register
8. Will I get the box for each purchase?

- Yes, definitely. For each telekung purchase, you will get our exclusive box for free (except for AS-IS collections). :)

9. Do you have physical shop that I can walk-in?

- As much as we'd love to have our own physical shop, unfortunately at the moment we don't. But we do have a small warehouse located in Ampang, which you can come on appointment basis only (as we lack of manpower to assist you on buying if you come without informing us in advance). In sha Allah, we plan to open our 1st physical shop in 2022.

10. I have made the payment, but the status still 'unpaid', what should I do?

- In some cases, there will be a disconnection between the payment gateway & our website once the payment is successful, causing the status is not reflecting the successful payment. Worry not, as we will manually cross check every (working) day and manually mark your order as paid. If you think we missed out your order, kindly reach out to us via email ([email protected]) or via this contact form.